Process your expenses in Wefact
Step 1: Submit a purchase invoice directly in your WeFact, process it later…
We recommend that you submit a purchase invoice or receipt directly to your WeFact administration. This way you will never miss an invoice/receipt! You can process it at a later time.
There are a number of ways to quickly submit the purchase invoice:
Receipt? Take a photo with the mobile app (iPhone or Android)
Invoice? In WeFact, go to "Purchase invoices" in the menu and upload/drag the invoice to it.
Invoice by email? Forward the e-mail to your personal WeFact e-mail address.

Step 2: Purchase invoices to be processed
After you have submitted the purchase invoice/receipt, it will be displayed within a few seconds under "X still to process" on the purchase invoices page. WeFact will automatically try to recognize the creditor and all invoice characteristics on your receipt or invoice.
Click on the blue document name to go to the purchase invoice. You will now enter the input window, on the left you will see a visual representation of the invoice and on the right you will find all purchase invoice characteristics. Even if WeFact was able to recognize the entire invoice, it is advisable to check all fields carefully.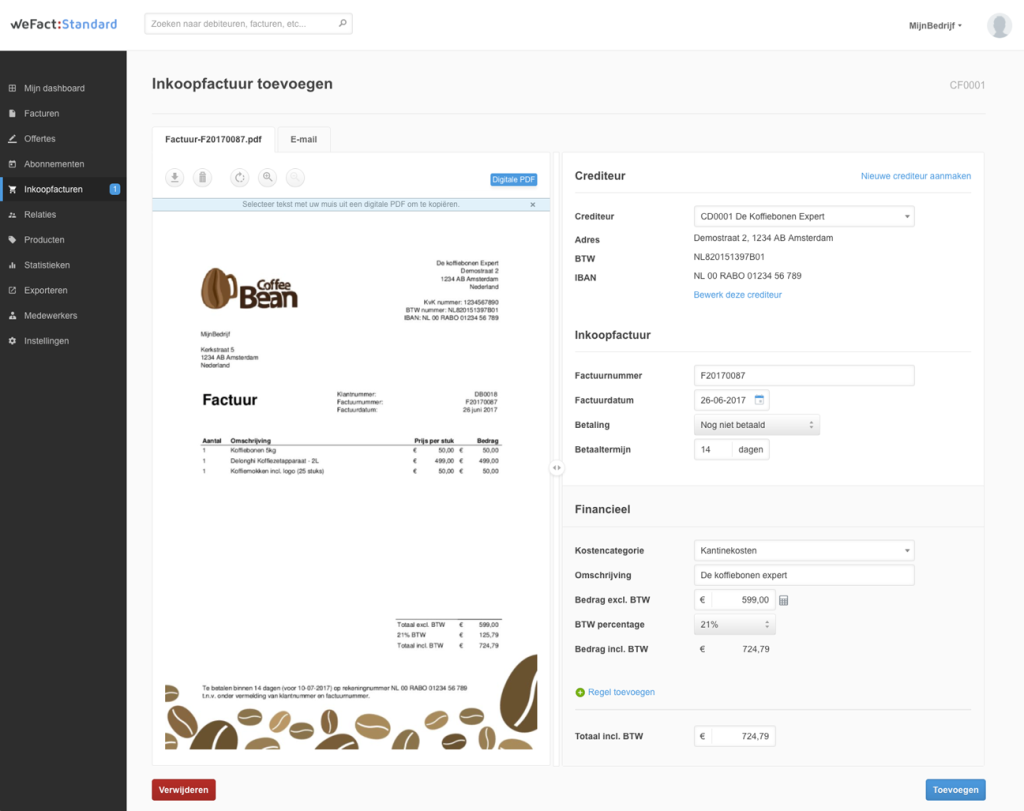 Cost categories
You can assign the expenses to cost categories. These categories are already defined by us.
Posting rules, apply the same invoice rules
With booking rules you can process recurring purchase invoices faster in your WeFact administration. This is useful in many cases, such as your telephone bill, internet bill, fuel receipts, rent, lunch/dinner and insurance. You want to process them the same way every month: on the same cost category, description and VAT. These posting rules are automatically applied when processing a purchase invoice. Read more about booking rules and how to use it here.
Step 3: Purchase invoices still to be paid
After processing a purchase invoice, it will become visible under the "Purchase invoices still to be paid" on the purchase invoices page. By checking these you can set them to paid in bulk, when you have already paid manually, or you can have a payment batch generated.
Generate payment batch
WeFact can generate a payment batch file containing the selected purchase invoices. By uploading this file to your bank, you pay these purchase invoices in one action. So you don't have to pay invoice-by-invoice manually. Please note: the bank may charge costs for processing a payment batch.